This piece of furniture is highly suitable for toddlers and preschoolers, with bright, bold colours for child-friendly decor.

Give your little one a table and a chair that gives them a sense of control and helps them learn to be independent.
Product details:
The black feet at the bottom of the table corner can be adjusted by rotating to avoid the table top tilting due to uneven ground.
The bottom of the steel frame is reinforced to make the surface more stable even if the weight is not deformed.
The round table is tilted to reduce the pressure during the collision without causing injury and enhancing safety.
Anti-mold texture technology, anti-pollution wear and polishing, high-quality non-toxic chemical protection, environmental friendly and safe.
Features:
The table is made of easy-to-clean plastic; the plastic chair has bright, interesting colors.
Suitable for children aged 3 years and older, suitable for children.
Product information:
| | |
| --- | --- |
| Brand Name: | Plastic children's tables and chairs |
| Material: | plastic |
| Size: | 120*60*50cm |
| Height adjustable: | 50~60cm |
| Weight: | 9kg |
| Color: | yellow |
| Folded: | No |
| Package: | Carton with thick foam |
| Leading time: | 15-20days based on your order |
| Payment: | LC,TT,West Union,Paypal |
Product show:

Table+ chair

Table + stool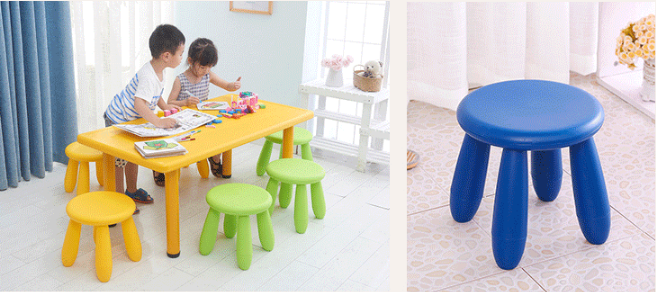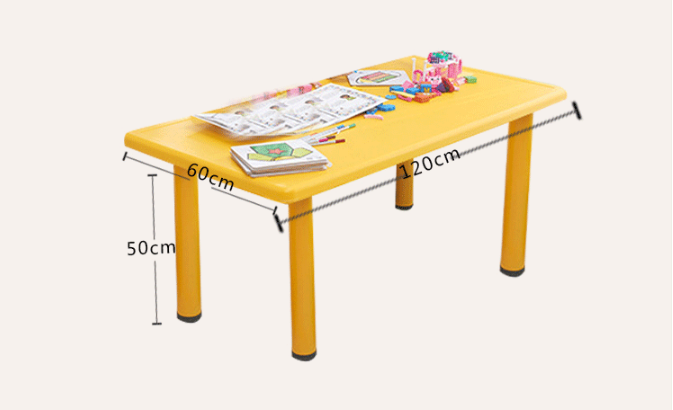 Hot Tags: plastic children's tables and chairs, China, manufacturers, suppliers, factory, wholesale, price, buy, bulk, customized